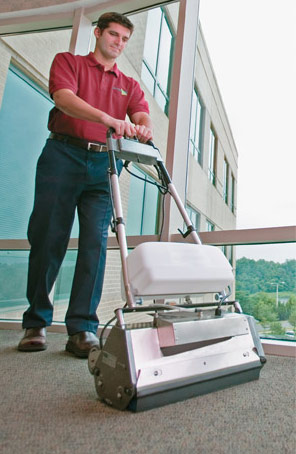 Expert Commercial Carpet Cleaning
ServiceMaster Commercial Systems understands that a facility's carpeting can be a large investment and sets a tone for your business. Carpet maintenance programs from ServiceMaster Commercial Systems will be able to remove spots, prevent dirt from accumulating, raise carpet fibers for a plush appearance, and ultimately help prolong the life of your carpeting.
Our cleaning specialists combine our exclusive carpet cleaning care with the recommended cleaning procedures set by your carpet's manufacturer to eliminate odors and any soil buildup with the proper cleaning products and procedures. The proper use of cleaning products will not only effectively clean your carpeting but will also benefit your employees and visitors by maintaining a professional appearance.
Spills and Stains
Spills and stains on carpet areas should be taken care of with a spot cleaner. Most spots fall into two categories. The first category is water base spots. Some of the most common are mud, coffee, or cola.
The second category would be oil based spots. Some of the most common here would be parking lot blacktop residue (generally a problem when the temperatures rise into the 70's and above) glue, grease from carts, grease from food, gum, toner and inks.
These spots should be taken care of on a daily basis. If spots are not responded to relatively quickly they can become a stain which is generally considered to be a permanent condition. These spots may require the use of a small miniature extractor or other special measures as well. Spots are generally considered to be 3 inches in diameter or smaller.
ServiceMaster Commercial Systems offers a wide variety of commercial carpet cleaning options tailored to your specific type of carpet, your goals and budget.
Preventive, Corrective and Salvage
Walk off matting
Vacuuming
Interim Cleaning Systems
Low moisture cleaning
Dry powder cleaning
Power pile lifting
Light extraction
Deep Cleaning
Shampoo
Clear hot water rinse extraction