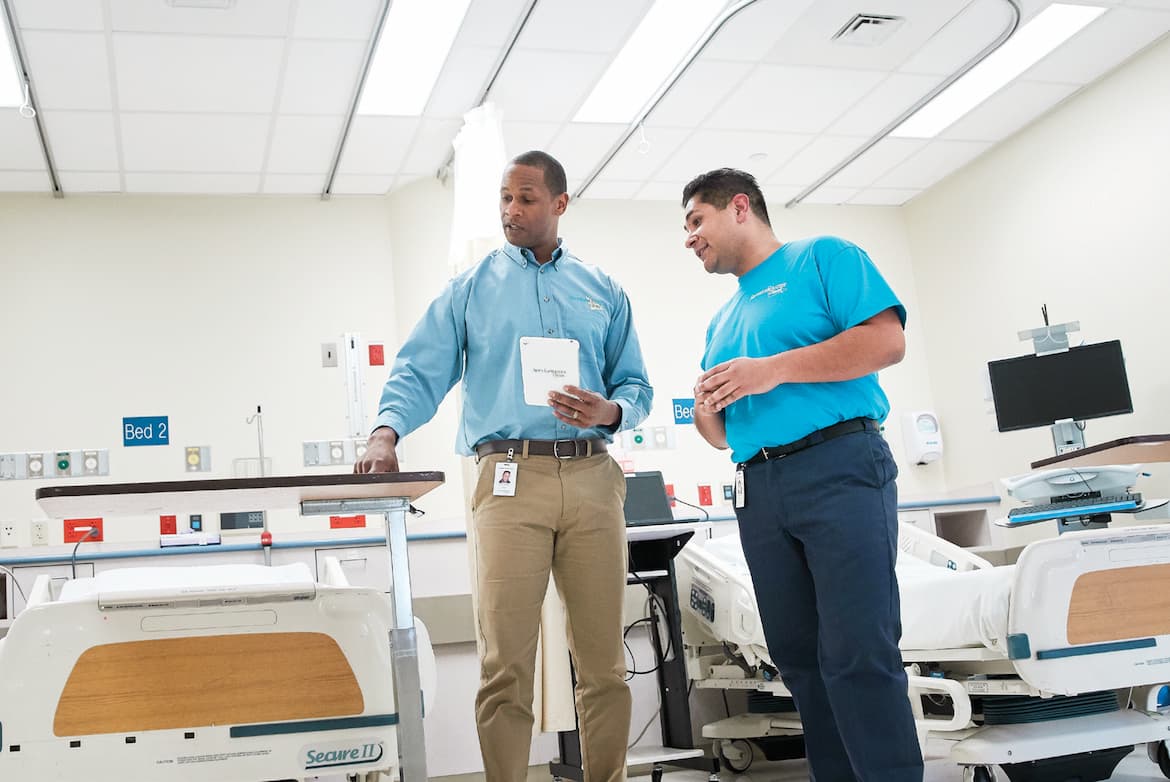 Due in large part to the COVID-19 pandemic, healthcare cleaning has been top-of-mind for clinics, private practices, and hospitals. To meet this need, SM Commercial Systems provides professional cleaning and disinfecting standards designed to keep your environment healthy. Our highly-trained and certified professionals follow best practices and procedures so you and your staff can focus on what matters most: caring for your patients.
Our Healthcare Cleaning Standards
To meet the high standards required for healthcare, SM Commercial Systems offers Capture and Removal Cleaning®, a proprietary cleaning system that combines advanced technologies and powerful products for an unparalleled clean.
When implemented by our expert technicians, Capture and Removal Cleaning® reduces the total amount of pathogens, airborne dust, Volatile Organic Compounds (VOCs), and other particles. Going beyond conventional cleaning processes, this system has been proven to be 55% more effective while minimizing costs due to the efficiency of tested cleaning methods.
Furthermore, we developed Capture and Removal Cleaning® according to the guidelines, best-practices, and proven procedures as published by:
Association for the Health Care Environment (AHE)
Association of periOperative Registered Nurses (AORN)
Centers for Disease Control and Prevention (CDC)
Centers for Medicare & Medicaid Services (CMS)
Environmental Protection Agency (EPA)
Occupational Safety and Health Administration (OSHA)
Our Extensive Training For The Best Healthcare Cleaning Experience
Every single employee we hire has undergone extensive, customized training specific to healthcare environmental services. Our proprietary comprehensive training modules are focused on providing healthcare cleaning that meets the unique needs of various healthcare facilities. This training includes many areas of sanitation that other healthcare cleaning companies do not emphasize in their training.
Some of the safety procedures our cleaning experts have been trained on include:
Wearing and handling personal protective equipment (PPE)
Sharps precautions and handling
Laundry precautions and handling
Understanding HIPAA regulations (including PHI/ePHI)
Exposure control plans
HazMat/HazCom procedures
Proper hand hygiene
Reading, understanding and following specific signage and labels
Comprehensive Healthcare Cleaning Solutions
SM Commercial Systems works directly with you to create a comprehensive, fully-customized healthcare cleaning procedure that meets your facility's needs and goes above and beyond your expectations. We provide healthcare cleaning solutions for the following facilities:
Physicians Offices
Dental Offices
Urgent Care Centers
Medical Clinics
Dialysis Centers
Outpatient/Surgical Centers
Assisted Living
Hospitals
Contact SM Commercial Systems Today
If you're ready for flexible and committed healthcare cleaning, SM Commercial Systems is at your service. We have an unwavering commitment to deliver your facility with the highest quality of cleanliness using industry-leading processes and products. We make it a priority to work with you to create a cleaning routine that addresses your scheduling needs to minimize downtime and eliminate unnecessary business interruption.
Call us today to learn more about how we can help keep your medical facility healthier and more comfortable for patients and staff.