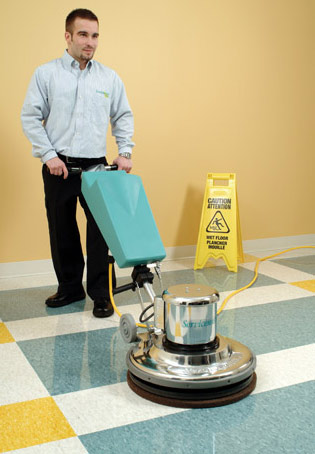 Superior Clean and Shine.
Our floor maintenance program is made up of several different procedures, each performed on its own schedule. We maintain floors based on the type of soil and traffic, the expected appearance or sanitation level, and the dollars allowed for floor maintenance.
A good program should use the least difficult and the least costly procedures first and then progress upward in order to maintain the appearance and protect the floor. The more difficult procedures should only be performed when the routine procedures do not provide the desired result.
If your flooring is old or worn from years of use, hard surface floor cleaning services from ServiceMaster Commercial Systems can help rejuvenate your floor's appearances to make it look like new. With new technology and years of field experience, we've developed a variety of programs and procedures that allow us to provide quality care for ceramic tiles, marble, hardwood, and many other floor surfaces. For facilities that need floor sanitization, contact ServiceMaster Commercial Systems for our state of the art floor care process.
Hard surface floor care includes, but may not be limited to:
Superior clean and shine
Reduce visible wear and possibly remove shallow surface scratches
Provide efficient and effective floor cleaning services
Dust-free burnishing
Improve slip resistance
We clean a variety of flooring surfaces to maintain appearance and safety. ServiceMaster Commercial Systems protects your investment and strives to impress.
Asphalt tile
Ceramic
Laminate
Linoleum
Luxury vinyl tile (LVT)
Porcelain
Rubber
Sheet vinyl