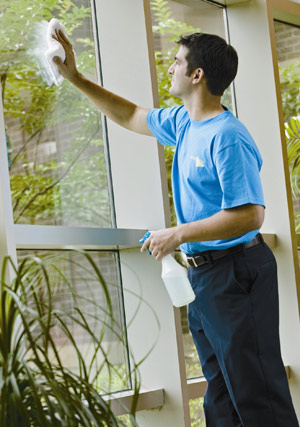 Guaranteed Services
At ServiceMaster Commercial Systems we aim to provide consistent and quality cleaning services for the offices and facilities we maintain, while striving to make your job hassle-free. For all of our services, ServiceMaster Commercial Systems upholds our guarantee that if we don't meet your expectations the first time, we'll work to correct it immediately. We want to show our customers the dedication we have and to ensure they are 100% satisfied.
Beyond ordinary tasks
After understanding your unique requirements and needs for your facility, ServiceMaster Commercial Systems will be able to tailor our cleaning services to maintain your facility up to your expectations.
Some of the services we provide are:
Dusting surfaces
Cleaning and restocking restroom supplies
Detailed cleaning of highly used items and areas (Kitchens, handrails, door handles, vending machines, countertops, etc.)
Garbage collection and disposal
Stain removal and vacuuming carpeting
Hard surfaced floor care (hardwood, marble, ceramic tile, vinyl, and more)
Office cleaning, including partitions and upholstered furniture
Window cleaning
Any other special requests
Our people. Our passion.
Our cleaning crews work as an extension of your staff, taking pride and responsibility in the services we provide and accomplishing our tasks just the way you wish. ServiceMaster Commercial Systems is committed to developing our staff members and are driven to excel. With our services, we monitor and manage each project's progress to ensure we are providing quality services with an everlasting cycle of improved performances.
Inspect. This is perhaps the most often forgotten step and yet the most important. Look around the office area for chairs that are not pushed under the desk, trash receptacles not replaced, spray bottles left behind, etc. The office area should look clean and orderly when you leave. We teach our employees to inspect their own work, but do not substitute their inspection for a supervisor's inspection.